Can my T-shirt show me the way, or should we finally stop buying clothing?
The topic of textiles has a long tradition at Reutlingen University. Founded as a weaving school in the 19th century, it was expanded into an institution for textile education and research through the initiative of industry, the city of Reutlingen, and the Kingdom of Württemberg. Since the 1970s, it has been established as a state university of applied sciences for the field of textiles and design.
In the Pioneer Garden, we embrace this focus and link textile themes with entrepreneurship activities. Today, Smart textiles and sustainability, in all their complexity, are particularly popular among students in the field of textiles. Since these topics are of interdisciplinary interest, we offer seminars in which students from the entire university can experiment and develop their own ideas to address the issues that matter to them. They learn all the necessary steps of the entrepreneurship process, from idea generation to validation and business model development.
The extensive machinery available at the Faculty of Textiles and Design allows us to simulate and learn the entire textile value chain. Additionally, in the Pioneer Garden, we provide sewing machines (household, industrial, overlock, leather), enabling students to work on their own projects and create prototypes.
Through our awareness courses and teaching activities, we aim to encourage and empower students to develop their own viable solutions to the issues within their respective areas of focus.
Textile Accelerator Stoff im Kopf
Since 2020, those interested in entrepreneurship and startups have had the opportunity to apply and participate in the Textil.Accelertor Stoff im Kopf hosted by the Center for Entrepreneurship at Hochschule Reutlingen.
The Textile Accelerator is designed for students, graduates, working professionals, and young entrepreneurial teams in the textile industry. In this 4-month qualification program, participants develop their business models using startup methodologies and enhance their entrepreneurial knowledge. Innovative trends and topics such as digitalization, smart textiles, and fair fashion make their textile ideas future-ready. Mentors and coaches provide guidance on market positioning, production, and building their own networks. In the laboratories and workshops at Reutlingen University, participants can even create their initial prototypes.
The program consists of a combination of in-person sessions and online workshops. The culmination of the four-month program is the Demo Day.
For more information, please visit: www.stoff-im-kopf.de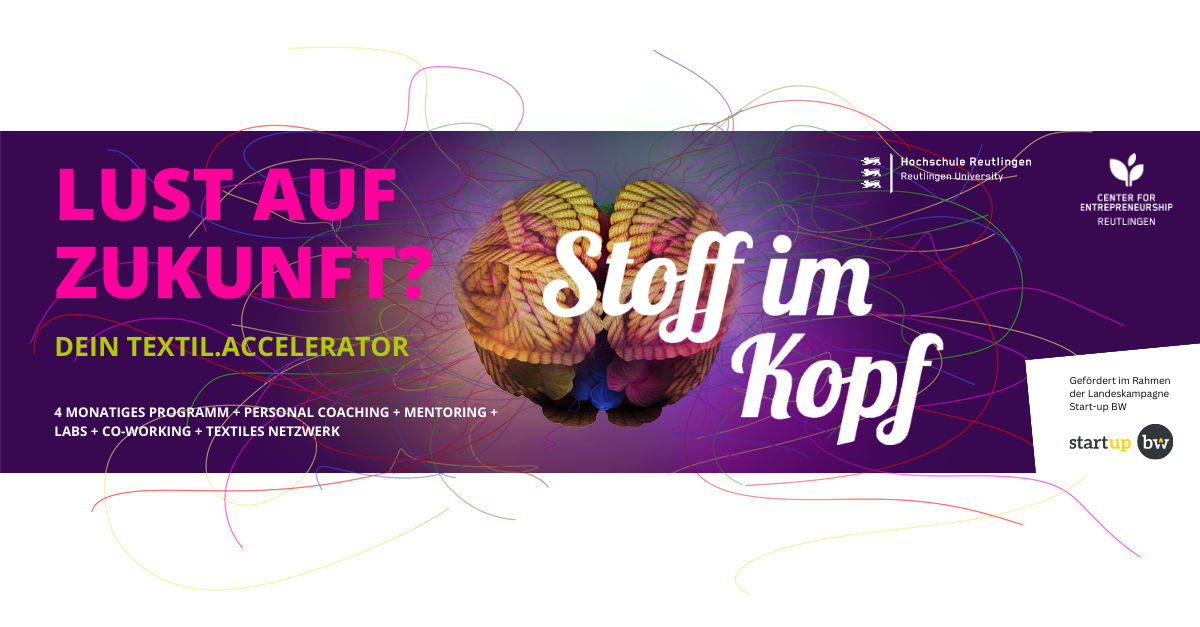 Takeouts DemoDay
Contact Reutlingen University